Dr. Jacqueline Loonen (RUMC) is a pediatric oncologist involved in long-term follow-up care for childhood cancer survivors and is the Head of the Radboudumc Center of Expertise for Cancer Survivorship, which provides survivorship care based on personalised longitudinal follow-up and risk-based screening according to (inter)national guidelines, delivered by a team of medical specialists and psychologists experienced in the field of late effects.
Jacqueline shares her experiences from the model she designed for personalised, multidisciplinary shared care implemented in RUMC to inform development of the PanCareFollowUp Care intervention, as well as deliver training on person-centred care to the clinical sites involved in the PanCareFollowUp Care intervention cohort study. She also develops the eHealth-based PanCareFollowUp Lifestyle intervention and assesses it in the Netherlands.
Dr. Rosella Hermens (RUMC) is an epidemiologist and associate professor at the Scientific Institute for Quality of Health Care (IQ Healthcare) at RUMC, where she is Theme coordinator of 'Implementation and evaluation of health care innovations'. She is an expert in quality of care research, focusing particularly on transparency, quality of care and implementation research in oncology.
Rosella contributes her expertise in implementation research in oncology and quality of care for the development of an implementation strategy for the PanCareFollowUp Care intervention and conducts a qualitative study on lifestyle with survivors and healthcare professionals. She also leads the development of replication materials to support future expansion of the PanCareFollowUp Care and Lifestyle interventions to new clinics and countries.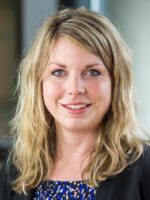 Eline Bouwman (RUMC) is a PhD-student at the Radboudumc Center of Expertise for Cancer Survivorship. Her research mainly focusses on eHealth innovations in survivorship care for childhood, adolescent and young adult cancer.
Within the PanCareFollowUp project, Eline is involved in both the development of the eHealth-based PanCareFollowUp Lifestyle intervention and study. For this purpose, she conducted qualitative interviews with Dutch childhood cancer survivors and focus group discussions with healthcare professionals in the Netherlands, Czech Republic, Sweden and Belgium. In addition, she also worked on systematic reviews and a questionnaire study for the development of the Lifestyle intervention.